Feel at Ease With First Reflection Audio Video.
We'll create a proper, well-implemented solution that meets your needs and exceeds your expectations.
Our Company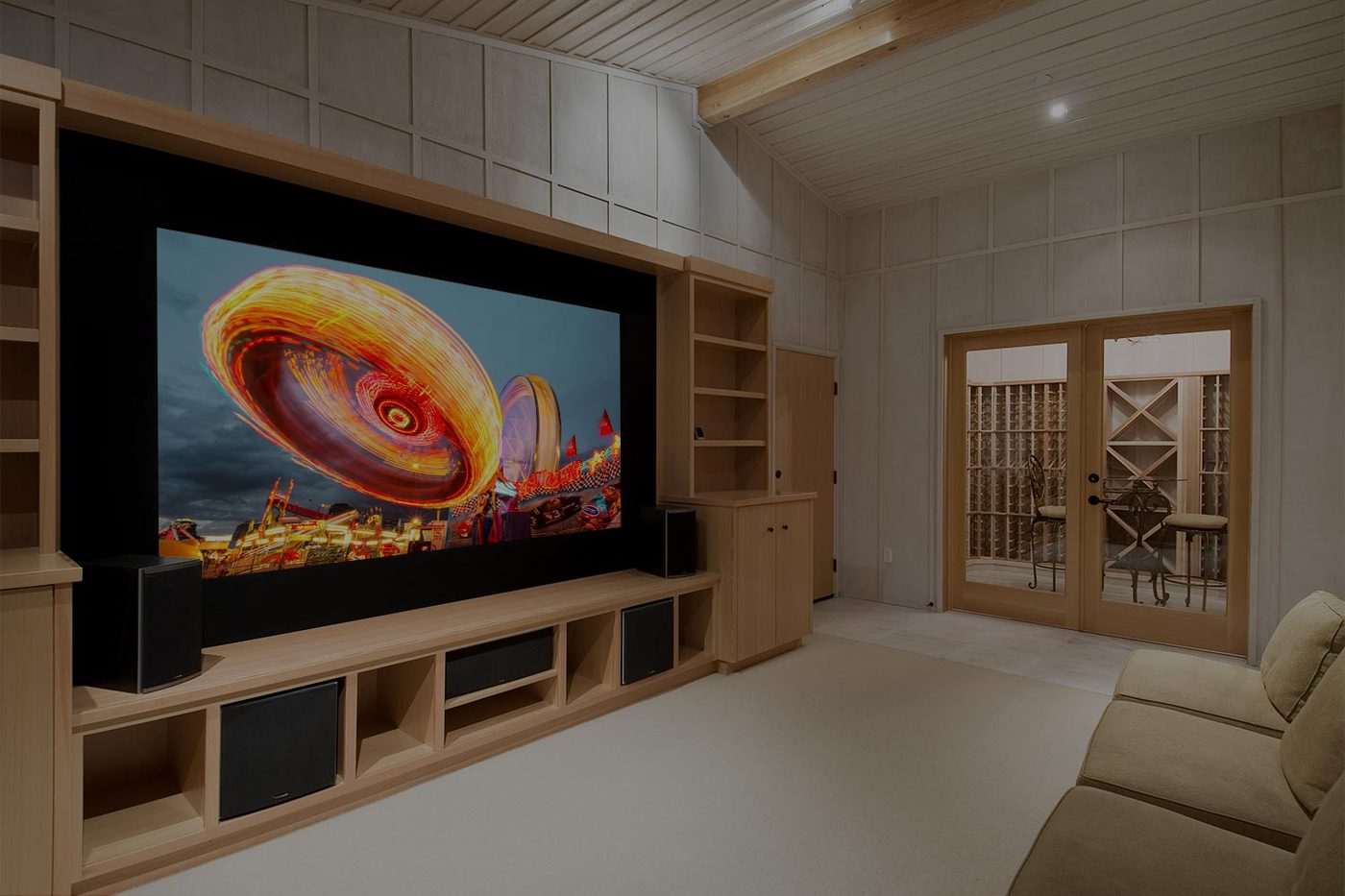 Professional home technology solutions.
We offer complete solutions from in-home assessment & consultation, to design, programming, installation, setup and client training.
Home Theater
Experienced & Trusted Solutions.
We use only the latest trusted and proven equipment in your home technology system.
Our Gallery
Complete Home Audio Video Solutions
First Reflection Audio Video is one-stop custom audio video integration, providing complete solutions for home audio video and automation systems, consisting of in-home assessment and consultation, design, programming, installation, setup, and training.
At First Reflection Audio Video, our focus is on providing our clients with exceptional value. Our main goal is for you to be completely satisfied with your home technology system, and to find it easy to use and enjoy, whether it's an all-new home theater designed from scratch, or an upgrade to your existing stereo system, or simply a single remote control to replace the several now in use.
"First Reflection provided my company with impressive service. They willingly learned a new video system (dome surveillance cameras) to make the necessary assessment and repairs. Having used three audio-video companies in the past, First Reflection is the best!"
"Woohoo is a good term for Ron's meticulous attention to every detail and tireless technical savvy in solving problems and achieving his unwavering goal of high quality sound and ease of operation. He's done two projects for us, both improving our listening enjoyment well beyond our expectations. And he leaves all those cables neatly bound and largely concealed! Ron richly deserves an unreserved five star rating."
"It works like magic, with just a touch of the finger. All your hard work was well worth it. You are truly gifted and a genius, and thank you. I am very pleased. Very pleased."
"I needed First Reflection Audio Video to install a new Blu-ray player into my home theater system. Ron quickly provided proper installation and setup, and also significantly improved our current system, that had been professionally installed by another company. Additionally, Ron provided suggestions to further optimize our audio video system, which I plan to have him complete later this year. I heartily recommend First Reflection Audio Video."
"Ron delivered the solution to our audio problem, and fixed a video problem too! Ron worked within our budget, suggesting which existing components should stay and which should be replaced. We are now able to fully enjoy our music library. Thanks, Ron."
"First Reflection Audio Video recently installed a new and complete system in my den. I was very impressed by Ron's professionalism, his attention to detail, and endless patience when answering a myriad of questions. I now have a great system and am pleased to recommend the services of First Reflection Audio Video."
"I'm so glad that Valet Custom Cabinets & Closets referred me to First Reflection Audio Video. It's very nice to have someone show up for appointments, especially when they are on time. Between what I thought I wanted, and their design suggestions, I'm very happy with the way my project turned out. I appreciated Ron working within my budget constraints, handling everything in a most professional manner. If anyone I know is looking for audio video design and installation, I will certainly share Ron's contact information. Many many thanks for everything."
"We have had our new audio/video system for a few weeks now, and are very happy with it. Ron Jones designed the system, ordered all the components, installed them, and tuned the system to perfection. The combination of the new receiver, speakers, Blu Ray, and plasma TV integrated with our existing cd changer and speakers gives us an excellent system for our viewing and listening pleasure. The ability to access internet radio was a great bonus.
Ron worked tirelessly to ensure everything was the best it could be. I would not hesitate to recommend First Reflection and Ron to all of our friends."
"After Ron installed our system, we had two political viewing parties. At both events our guests commented on the sound clarity. I guess many people have nice big TVs, but not our sound quality. Even the woman who had to sit right next to one of the speakers was impressed. People were in the back of the kitchen and could hear well without blasting those sitting close up.
In addition, Ron immediately got back to my email query about how to show a video directly from a website by downloading some free software. He told us he'd be there for us to answer questions. It's great to find someone who keeps their promises."
"Ron is the definition of a professional in every sense of the word.
He has put together multiple room systems in our home and does exactly what he says he'll do. This guy knows what he is doing and does his craft as it was his own home. Incredibly detailed, straightforward, on time, clean, trustworthy – I highly recommend his work."
"Ron was given a challenge in our small San Francisco condo, and came up with a first class AV system that far exceeds our expectations. Ron has the technical expertise, mixed with a great attention to detail that is required in doing this kind of work. He spent a lot of time making sure that our system fit within the limitations of our AV cabinet, and offered us top quality equipment that is totally integrated for our new home. He was careful in listening to our needs and customizing a system that fit our home and our budget. We couldn't be happier. We'd recommend that you give him a go if you're looking for any AV changes to your home."
"We wanted to upgrade our TV and DVD player, and take better advantage of our bookshelf speakers, but didn't know how to proceed. We were referred to Ron Jones from First Reflections Audio Video. Ron came to our home and quickly recommended a TV and BluRay, and how to connect and position our speakers so they'd sound better. We made an appointment for Ron to come and set up everything, which he did in one visit. Everything works to perfection…we couldn't be more pleased! It was a pleasure working with Ron and we highly recommend him."